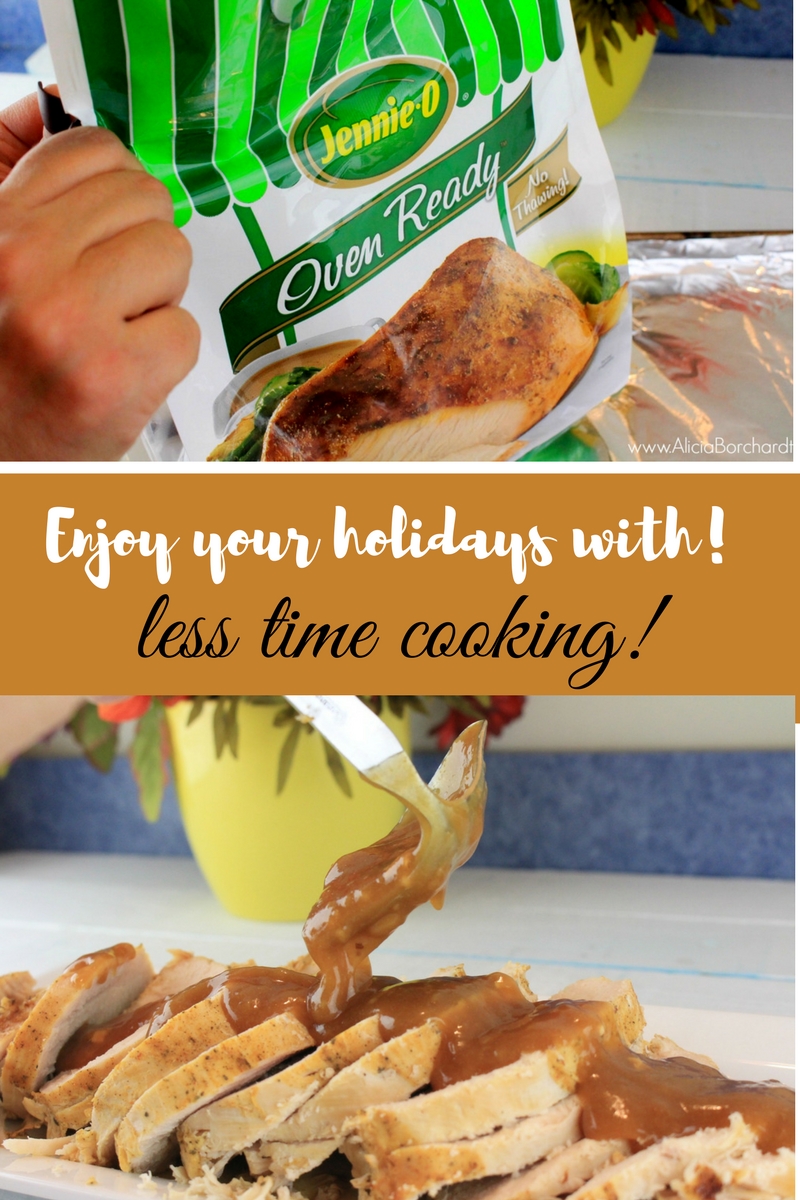 English:
The holidays are right around the corner and It's the time I love to share with my family and friends. Together we decorate the house, listen to music, I personally enjoy organizing parties and cooking at home. For me it's a way of showing them all how much I love them and how important they are in my life. So what could be better than cooking them something delicious? But with those blessed days come a very busy schedule! I'm always looking for ways to simplify my life. Over the years I've learned that the idea of ​​celebrating at holidays is more about sharing quality time with the people I love and less about running around like a chicken making everything perfect for everybody!! Now don't get me wrong, if Im going to make a holiday dinner for my family and friends, it's got to taste great !!! Thats why cooking and preparation has always been the most time consuming part of my holiday activities.
Thats why I wanted to share with you my latest discovery. Its an incredibly delicious and so easy to make turkey breast by Jennie-O!! It comes packaged boneless and frozen. They call it "Jennie-O Oven Ready" I like to call it Jennie-O ready to go!!" To prepare it, just take it out of the freezer remove it from the outer bag and put it in the oven! Honestly it couldn't be easier!! In 1 hour 40 minutes is ready! It even comes with an easy to make gravy!
The breast is pre-seasoned and the aroma throughout the house while its cooking is simply wonderful. It's hard to believe its so easy to prepare and yet so so delicious. My husband made the comment " Now we can have this kind of a meal any day not just for the holidays" And actually I'm OK with that!!!! This is so easy and delicious that it will be a regular in my freezer during the year.
And check it out!! Its not just breasts! They have also prepared whole turkeys!! Below I've listed all the "oven ready" products they're promoting for the holidays.
JENNIE-O® OVEN READY™ Whole Turkey
JENNIE-O® OVEN READY™ Cajun Style Whole Turkey
JENNIE-O® OVEN READY™ Boneless Turkey Breast
JENNIE-O® OVEN READY™ Boneless Cajun Style Turkey Breast
JENNIE-O® OVEN READY™ Bone-In Turkey Breast
Español:
Las festividades ya la tenemos a la vuelta de la esquina; es el tiempo propicio para compartir con familiares y amigos, decoramos la casa, escuchamos música alégre; personalmente disfruto mucho el organizar fiestas y cocinar en casa, pienso que es una manera de decirles a mis seres queridos cuanto los quiero y lo importantes que son en mi vida; y que mejor que cocinarles algo delicioso verdad? pero con el corre corre diario también busco la manera de simplificarme la vida cocinando más rápido sin sacrificar el sabor; con los años aprendí que la idea de celebrar una festividad es "compartir tiempo de calidad" con los invitados.
Recientemente descubrí un pavo delicioso que viene pre-sazonado de Jennie-O Oven Ready que para prepararlo solo requiere sacarlo del congelador y meterlo al horno, si amigos estas leyendo bien (del congelador al horno) y en 1 hora 40 minutos esta listo!
Si yo pudiera transmitirles el aroma que se percibe en toda la casa cuando lo estoy cocinando es mágico; es parte de la alegría de estar en familia de disfrutar del día de Acción de Gracias, la Navidad, Año Nuevo y hasta los Reyes Magos; de hecho mi esposo me dice que es tan fácil y delicioso que lo seguiremos comprando para disfrutarlo durante el año tanto para fechas importantes o simplemente disfrutarlo en una cena por eso siempre lo tengo en el congelador.
Te agrego la lista con la diversidad de sabores!
JENNIE-O® OVEN READY™ Whole Turkey / Pavo entero
JENNIE-O® OVEN READY™ Cajun Style Whole Turkey / Pavo entero estilo Cajún
JENNIE-O® OVEN READY™ Boneless Turkey Breast / Pechuga de pavo sin hueso
JENNIE-O® OVEN READY™ Boneless Cajun Style Turkey Breast / Pechuga de Pavo sin hueso estilo Cajun.
JENNIE-O® OVEN READY™ Bone-In Turkey Breast / Pechuga de Pavo con hueso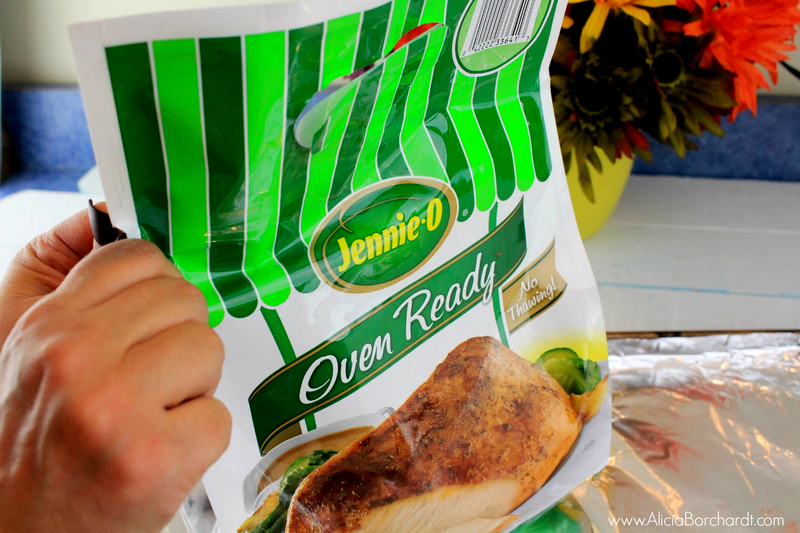 Remove frozen turkey breast from the outer package Jennie-O Oven Ready.
Saca la pechuga de pavo del paquete de Jennie-0 Oven Ready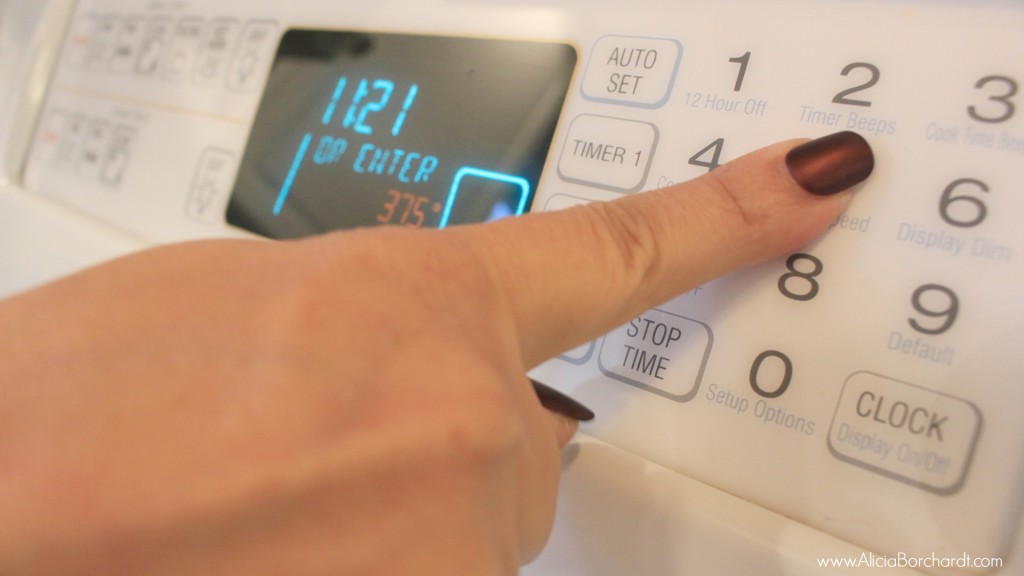 Preheat your oven to 375 degrees Fahrenheit , do not increase oven temperature, cooking bag may melt at higher temperatures.
Precalienta el horno a 375F grados Fahrenheit, no le aumentes la temperatura al horno ya que la bolsa donde se cocina el pavo podría derretirse.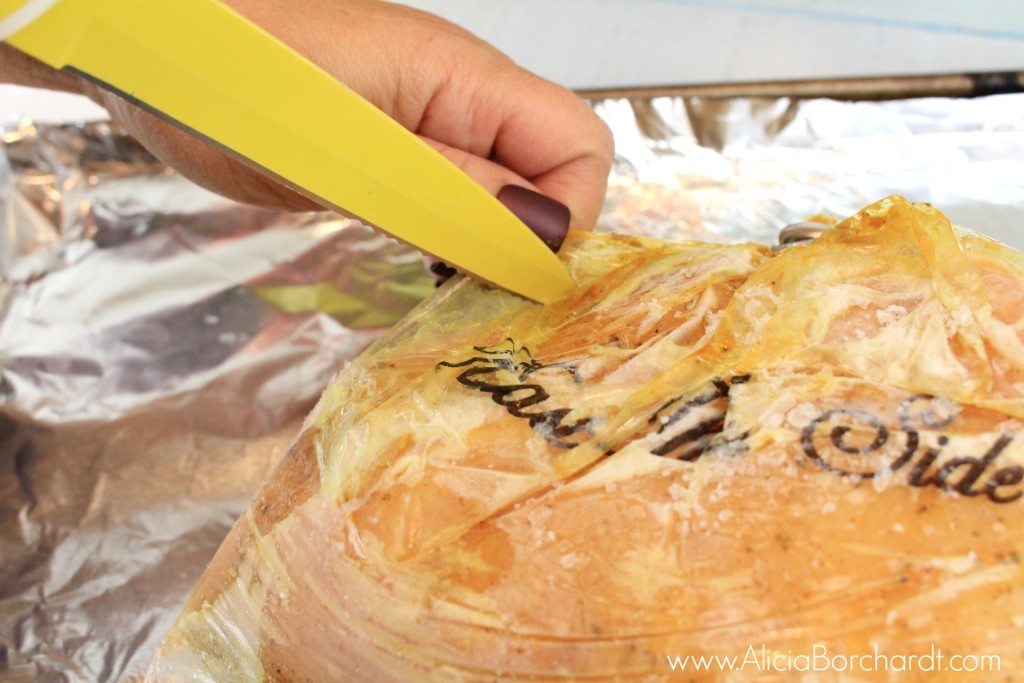 Place breast in shallow cooking pan
Cut three 1/2 inch slits into the top of the cooking bag.
Place pan in oven, allowing room for bag to expand without touching the oven racks or walls.
Cook at 375 degrees for 1 hour 40 mins
*To be sure your Jennie-O breast is fully cooked check use a meat thermometer to check the inside temp is at least 165 degrees.
Español:
Coloca la pechuga en una bandeja sin que toque las paredes del horno
Corta 3 orificios de 1 centímetro cada uno en la parte superior de la bolsa para cocinar el pavo.
Cocina a 375 grados Fahrenheit por 1 hora 40 minutos
* Para estar seguro que tu Pechuga de pavo Jennie-O esta totalmente cocinada usa un termómetro para carnes, colocado en el centro del pavo debe indicar 165 grados Fahrenheit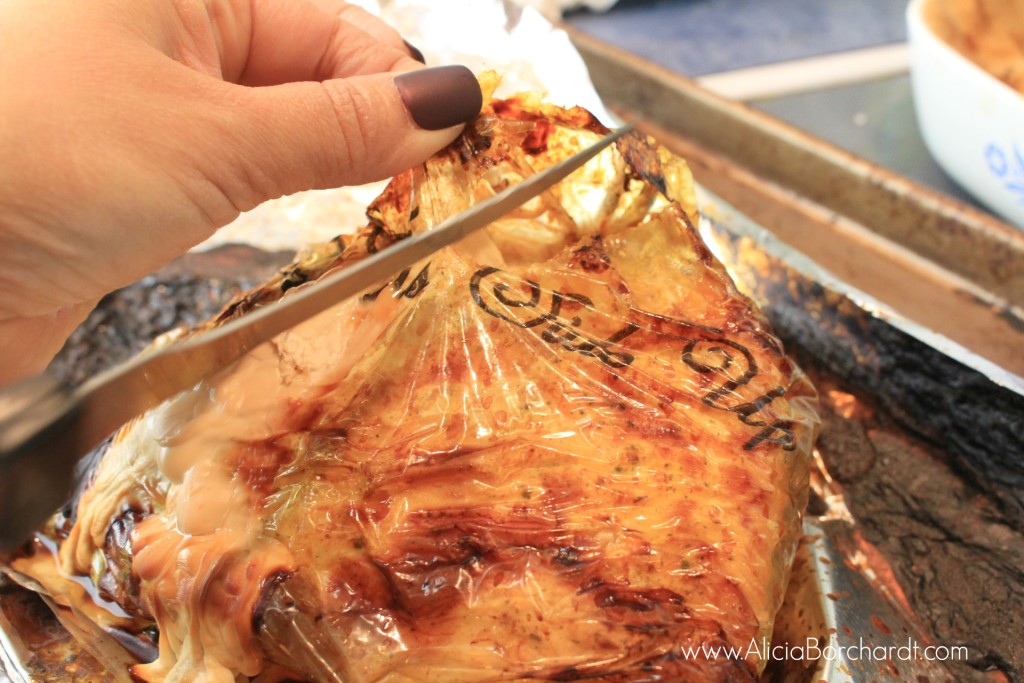 When finished cooking let turkey breast rest outside the oven for 10 minutes, Now is a great time to make your gravy ! (see below)
After the ten minutes, cut open the top of the oven bag and place the breast on a serving platter.*Be cautious of the hot steam and juices.
Slice and serve!
Luego que el pavo este listo déjalo reposar fuera del horno por 10 minutos, ahora es el momento indicado para preparar tu salsa ! (Lee abajo) Luego de los 10 minutos, corta la bolsa donde se cocinó el pavo y ya estará listo para cortar en rodajas y servir. * Te precaución del vapor y jugos que están caliente.
Gravy cooking instructions:
Empty contents of gravy packet into saucepan. Add 3/4 cup of water, cook and stir over medium heat until thick and bubbly. Remove from heat let sit for a minute or two and its ready to use.
Sigue las instrucciones para preparar la salsa que viene en el empaque. Vierte el contenido en una cacerola. Agrega 3/4 de taza con agua, cocina y revuelve a fuego medio alto hasta que espese. Retira del fuego.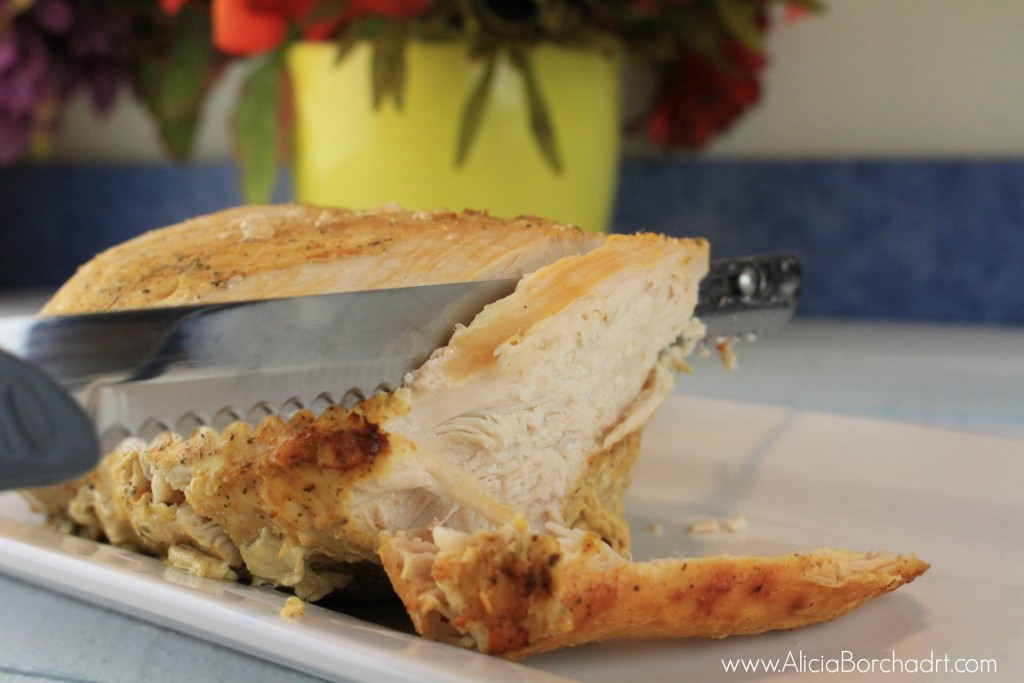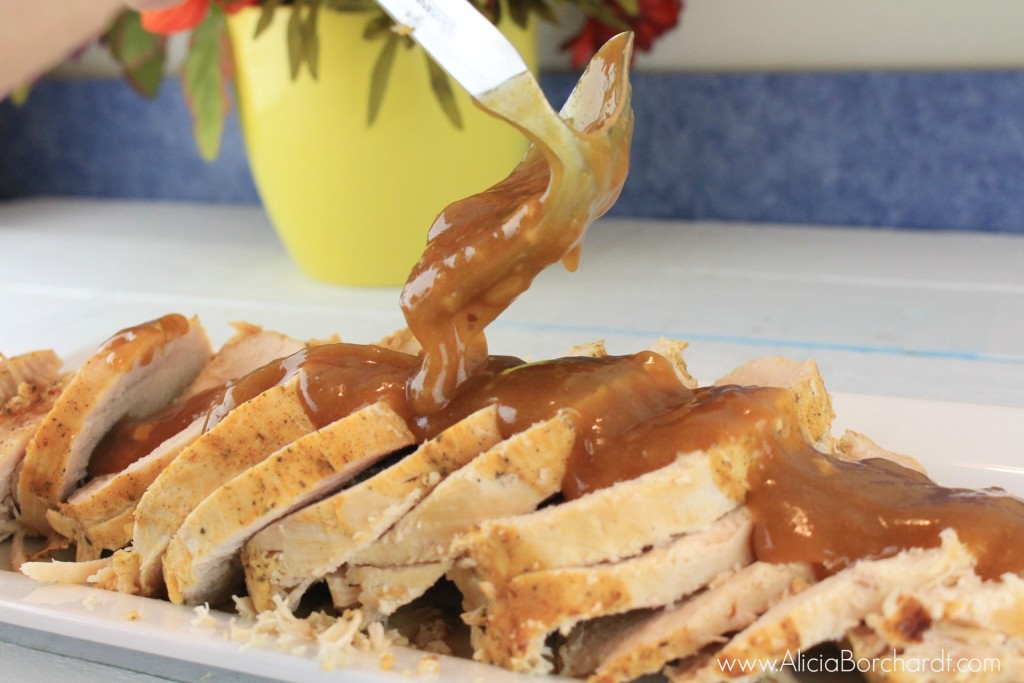 Enjoy it!
PS: I will giving away (4) $5 off coupons for Jennie-O Turkey® products, to enter the giveaway, simply leave a comment below and you will be entered into the contest.
BuenProvecho!
Nota: Estaré sorteando (4) cupones con $5 de descuento cada uno de productos Jennie-O Turkey®, para entrar en el sorteo simplemente deja un comentario y suscríbete al sorteo con tu email.